Pyydä lähetyssaarnaajia käymään
Otamme sinuun yhteyttä sopiaksemme ajankohdan, jolloin voimme pistäytyä luonasi, kertoa kohottavan sanoman ja vastata kysymyksiisi.
Kiitos. Olemme sinuun yhteydessä.
Odotamme innolla keskusteluamme. Otamme sinuun yhteyttä seuraavan vuorokauden sisällä sopiaksemme tapaamisesta.
Error: Form could not be submitted at this time. Please try again or refresh the page to start over.
Kuinka lähetyssaarnaajat voivat auttaa minua?
Vaikka suhteesi Jumalaan voi olla syvästi henkilökohtainen, toisinaan me kaikki tarvitsemme hieman apua tunnistaaksemme sen, mitä Jumala meille sanoo. Riippumatta siitä, missä olet hengellisellä polullasi, lähetyssaarnaajat voivat opettaa evankeliumin periaatteita ja näkemyksiä, jotka voivat auttaa sinua matkallasi. Pidä heitä hengellisinä valmentajina, jotka
auttavat sinua tuntemaan olevasi lähempänä Jumalaa
näyttävät sinulle, kuinka rukoilla ja saada vastauksia Häneltä
auttavat sinua löytämään vastauksia hengellisiin kysymyksiisi
opettavat sinulle Vapahtajasta Jeesuksesta Kristuksesta ja Hänen evankeliumistaan
auttavat sinua ymmärtämään pyhiä kirjoituksia
tukevat sinua henkilökohtaisissa haasteissasi
kannustavat sinua edistymään kohti parannusta, uskoa ja kastetta
tutustuttavat sinut sellaiseen samanmielisten uskovien yhteisöön, joka voi edelleen tukea sinua hengellisellä matkallasi.
Mitä lähetyssaarnaajan vierailulta voi odottaa
Lähetyssaarnaajat pyytävät saada aloittaa vierailun rukouksella. Jos sinulle sopii, he saattavat jopa pyytää sinua pitämään rukouksen. Kummassakin tapauksessa tavoitteena on kutsua Pyhä Henki mukaan keskusteluun.
He käyttävät luultavasti muutaman minuutin siihen, että he tutustuvat sinuun ja siihen, mikä sinua kiinnostaa. Lähetyssaarnaajilla on kokonainen ohjelma, jonka he voivat opettaa sinulle, mutta he yrittävät mukauttaa sanomansa sinulle ja elämäntilanteeseesi. He lukevat kanssasi Raamattua ja Mormonin kirjaa ja pyytävät sinua rukoilemaan ja kysymään, onko se, mitä he opettavat, totta.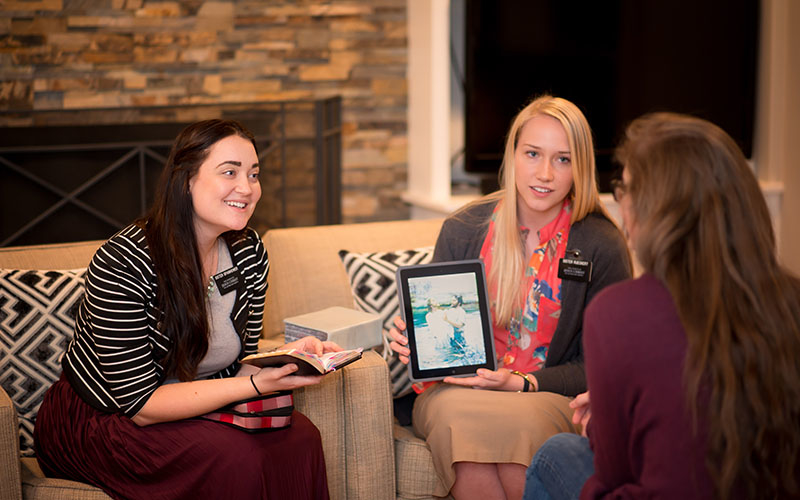 Jos haluat, lähetyssaarnaajat sopivat kanssasi toisen tapaamisen. Seuraavassa tapaamisessanne he opettavat sinulle lisää Jeesuksesta Kristuksesta ja Hänen palautetusta kirkostaan sekä vastaavat kysymyksiin, joita sinulla saattaa olla. Heidän ohjelmansa sisältää myös sanomia Jumalan suunnitelmasta meidän onneksemme, Jeesuksen uhrista meidän puolestamme sekä uskosta, parannuksesta, kasteesta, Pyhästä Hengestä ja Jumalan käskyjen pitämisestä. He kehottavat sinua edelleen rukoilemaan, lukemaan Mormonin kirjaa, käymään kirkossa ja jopa menemään kasteelle. Ja muista, että lähetyssaarnaajat etenevät sinun tahtiisi ja arvostavat aikaasi ja sitä, haluatko tavata heidät jälleen vai et.